Another facet of my research focuses on social media and the role it plays in identity construction, impression management, and the social construction of reality.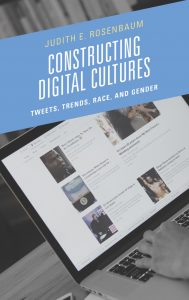 Constructing Digital Cultures: Tweets, trends, race, and gender came out November 2017. Constructing Digital Cultures examines how user-generated narratives on Twitter renegotiate dominant ideas about gender and race. Using an in-depth, qualitative examination of individual tweets, the different kinds of dialogue that characterize the platform, and various ways in which people connect, Constructing Digital Cultures  provides insight into the nature of digital culture produced on Twitter and the platform's potential as a virtual public sphere. This volume investigates arenas of discussion often seen on Twitter—from entertainment and popular culture to politics, social justice issues, and advertising—and looks into how members of ethnic minority groups use and relate to the platform.
The unprecedented takeover of Twitter by shows featuring African American female leads, such as Empire and Scandal, prompted an investigation into how fans of these shows utilize Twitter for collaborative meaning-making, and how this contributes to cultural understandings of race and gender.The findings from this investigation were presented at the 2016 PCA/ACA conference.
My interest in this specific area began with he explosive growth of the social media platform Facebook, which resulted in a multi-study research project that investigated how young African American adults use Facebook as an impression management tool.
Maine Calling: Politics in the Age of Twitter
In January, I was a guest on Maine Public's Maine Calling. Together with Brooke Foucault Welles from Northeastern University, I discussed my book and the face of politics in the age of Twitter. You can find the interview here.